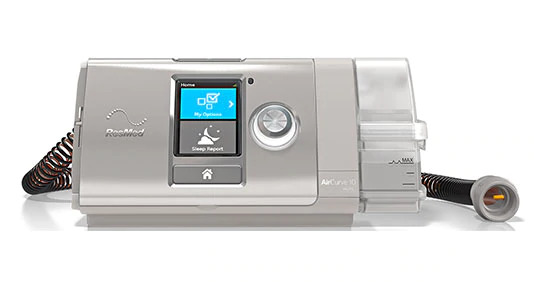 The AirCurve 10 VAuto is an auto-adjusting bilevel device that uses the comfort of both the AutoSet™ algorithm and Easy-Breathe waveform in its VAuto algorithm to treat obstructive sleep apnea patients who can benefit from greater pressure support.
The AirCurve 10 VAuto adjusts the baseline pressure to hold the airway open while maintaining a fixed pressure support.
Climate Control
Every device is automatically set to deliver therapy at the most comfortable temperature and humidity levels when used with ResMed's new HumidAir™ heated humidifier and ClimateLineAir™ heated tube. There are no settings to change and no complicated menus to navigate. And because the HumidAir humidifier is so easy to set up and manage, therapy becomes even simpler for you and your patients.
TiControl™ lets you set minimum and maximum time limits on either side of the patient's spontaneous flow cycling, creating a window of opportunity for him or her to spontaneously cycle the breath with the security of timely intervention where necessary.
Adjustable trigger and cycle can be used to optimize synchrony between the device and the patient's own respiratory efforts.
Vsync continuous leak management enables reliable delivery of therapy pressure while maintaining patient-device synchrony.
Compatible with up to 15 L/min of supplemental oxygen in S and CPAP mode and 4 L/min in VAuto mode.
Using AirView™, ResMed's cloud-based patient management system, you can access nightly therapy data, troubleshoot remotely (using the remote assist feature) and change device settings remotely.